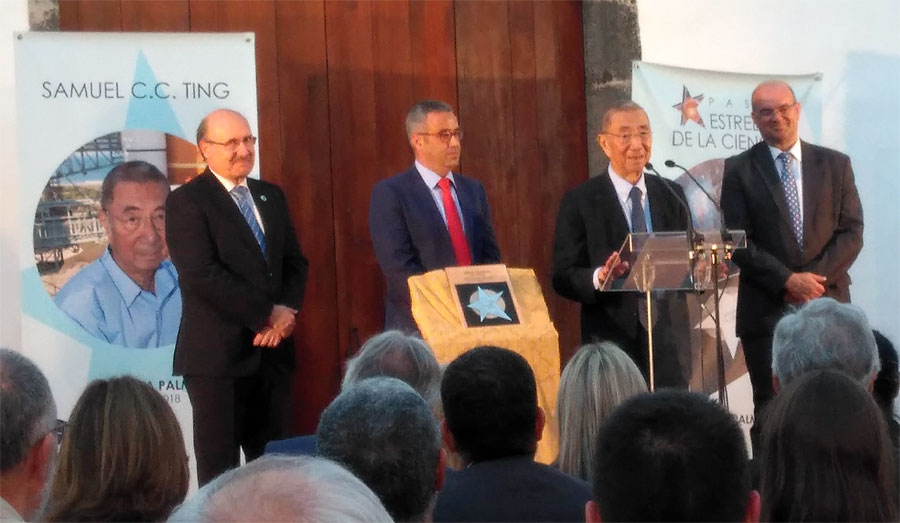 Life has been happening too fast to blog about. It's nearly all good things but I've struggled to keep up.
For example, on Wednesday I abandoned a Nobel Prize winner in a broken down car.
Yes really.
The Canarian Astrophysics Institute hosted a big partical physics conference on the island, all about the Alpha Magnetic Spectrometer, which is an instrument on the ISS. (It measures antimatter in cosmic rays, with the aim of understanding the formation of the Universe, and to search for evidence of dark matter.) The lead speaker of the conference was Samuel Ting, who won the Nobel physics prize some years ago for discovering a new subatomic particle.
Well on Wednesday morning I took
Thomas-who-is-giving-us-the-ship's-bell
to see the observatory and hike a little at the top of the world. We had a good time. We were most of the way back down when I saw a car "parked" in the ditch. Of course I stopped to help. It was two East Asian men who didn't speak much English. The car electric were completely dead except for the interior light, which was very odd. No point looking at the battery connections. One of the men was stressing because he had to give a talk in Los Cancajos in 90 minutes.
Then the Spanish driver appeared from around the corner where he'd gone in search of mobile coverage. He said a replacement car would arrive in about 5 minutes. At that point I realised that the Spanish driver and east Asian passengers hardly understood each other. So I explained that they were about 10 minutes from Santa Cruz and another car would come soon and it would be ok. I saw the stressed man's blood pressure go back to almost normal, and we left.
And on Thursday evening I went to the ceremony where Santa Cruz added Samuel Ting to their Stars of Science along the sea front (it's going to be like Hollywood boulevard). And yup, the stressed guy was Samuel Ting.
And yes, I hear he got to his talk in good time.