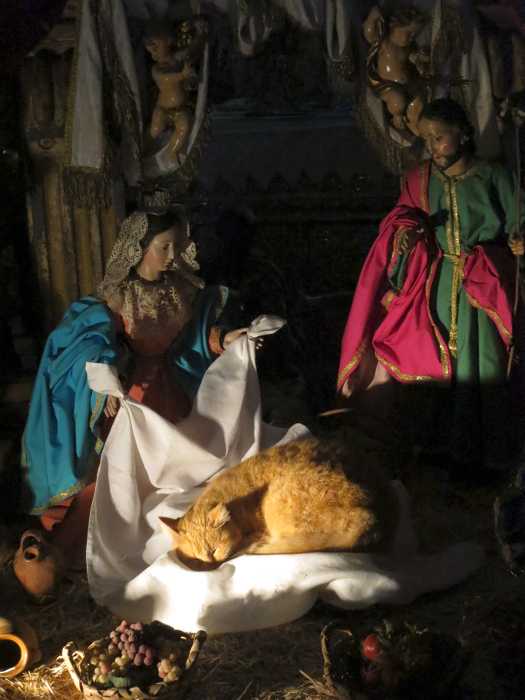 Most churches on La Palma have nativity scenes. The custom here is to put baby Jesus in at midnight on Christmas Eve, during midnight mass. (I think this is a general Catholic custom). On Christmas Eve I was guiding an excursion from a cruise ship which included the lovely church at Las Nieves. And there was a kitten keeping the spot warm for Jesus.
If I remember rightly, nativity scenes were invented by St. Francis of Assisi, who wanted to show people that Jesus was born in humble circumstances rather than a palace. He was also famously kind to animals, so I don't think he'd mind. I just hope the priest agreed.
In other news, After being mad busy in the run up to Christmas, I announced that I was on strike for Boxing Day. I did no housework or cooking. I just read and wrote – or rather edited the novel. Today I was supposed to be tour guiding at the observatory, but that was cancelled due to a weather alert, and I spent most of the day reading and editing again. I'm now up to chapter 55 of the second draft.
I have guiding work every day for the rest of the week, so I'll probably slow right down again, but it felt so good to make some progress after being stalled for two weeks.