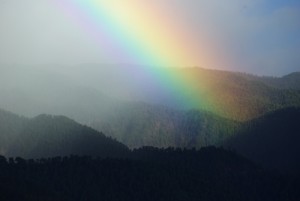 It's been raining a lot lately.
Yesterday the Classroom assistants had a meeting in Santa Cruz, so I decided to do my errands in town and see my old collegues when they broke for coffee.
In spite of the Canaries's reputation for endless sunshine, it poured. The first thing I bought was an umbrella. Then I had breakfast and went to the bank. I met Helen, who was also in town since Theresa was at the meeting, and we did some paperwork for her bank account and driving license.
It was still raining, and you can only drink so much coffee in bars, so we squelched up the hill to see my friend Ana, whom I'd been neglecting, and then squlched right across the top end of town to the bar near the teacher's centre.
We timed it just right, and I had a happy fifteen minutes catching up with old friends, plus collecting Theresa's signature for yet more paperwork.
At that point, Helen agreed with me that it didn't really make sense for her to stay soggily in town, so she came back with me (via the gestoría and post office, just in time to tidy up the kitchen (bless her) while I fetched my son from school. By the time I got back, Theresa was there too, and we all had lunch.
Today the rain is easing off, and I caught this shot of a rainbow over the ridge int he centre of the island.
Oh, and the novel's at 69,800 words.