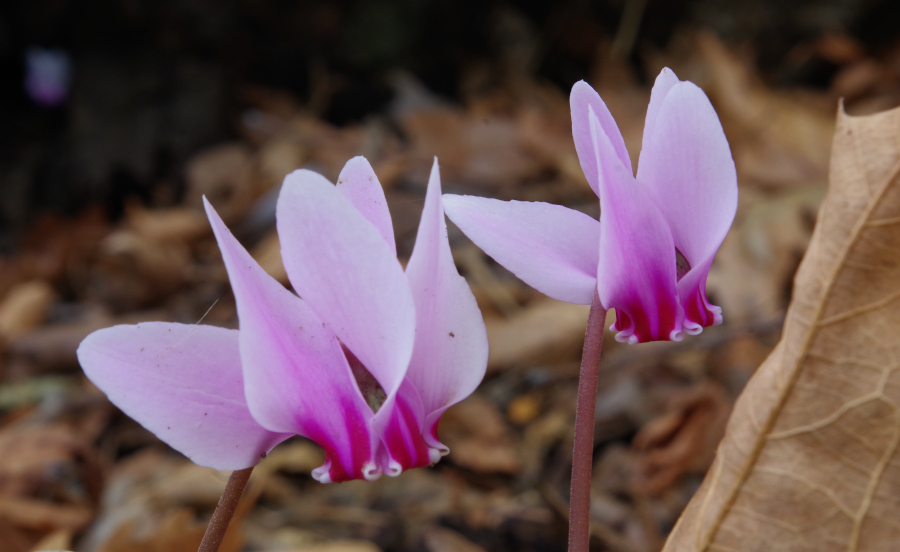 On my last full day I went to an abandoned village – sorry, I've forgotten the name. People moved away to be nearer the road where there was electricity and mains water. it was all very atmospheric, but what really caught my eye were the wild cyclamens and the old bridge.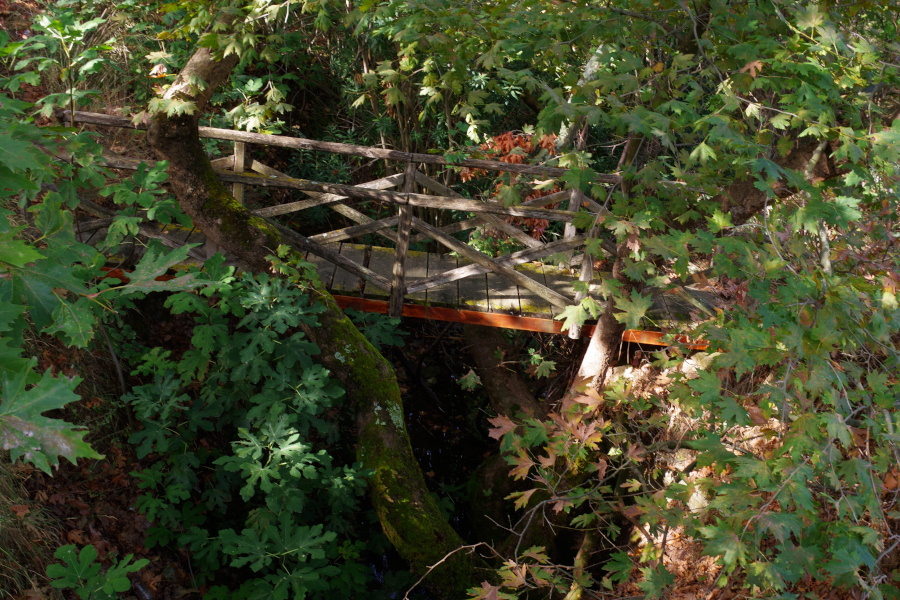 As expected, I was sad to leave on Friday morning. The trip started off well enough – 8 am start, drive to ferry (a different ferry, because the one I arrived on starts just slightly too late.) As we drove off the ferry I saw a pickup full of garlic.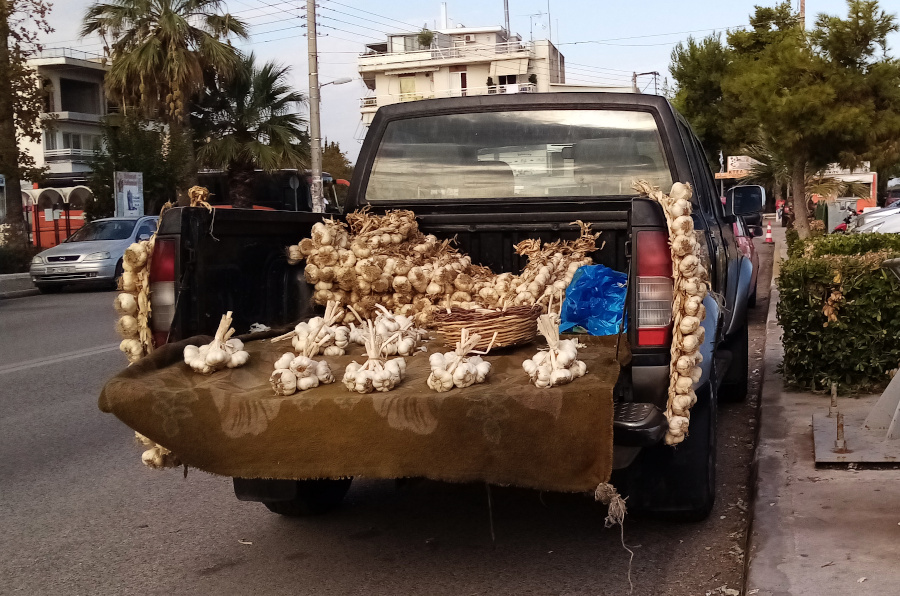 Everything was fine until the outskirts of Athens, when suddenly we ran into a traffic jam. Really jammed. I started to worry. Then really worry. Then wonder how much a replacement flight would cost. Then some ambulances and police cars went passed, and we were moving again.
My host said, "Don't be British and polite about this. Just barge straight to the front of the queue."
Good advice, but when I got to the check-in counter there was no queue. With some misgivings I checked the suitcase right through again, reasoning that if it were delayed again at least I'd be home with a full wardrobe. I had to walk straight to the gate and it was "last call" when I arrived, but there was a queue and a coffee shop right by the gate, so I got my planned caffiene fix anyway.
It was early afternoon when I got to Barcelona. My Airbnb was very friendly (Pilar, El Prat de Llobregat, I recommend her!). I went for a very late an welcome lunch and then went out to explore.
Having seen La Sagada Familia cathedral on my way to Greece, I decided to take a look at the ramblas and do some shopping. I'd heard of the ramblas, but I wasn't sure what they were. It turns out that a rambla is a wide street with a tree-lined pedestrian area down the middle. They're really nice, and often contain kiosks and street artists. On Friday night I found a young man blowing giant bubbles, to the delight of the children. The shape of the bubbles made me think of Gaudi's buildings.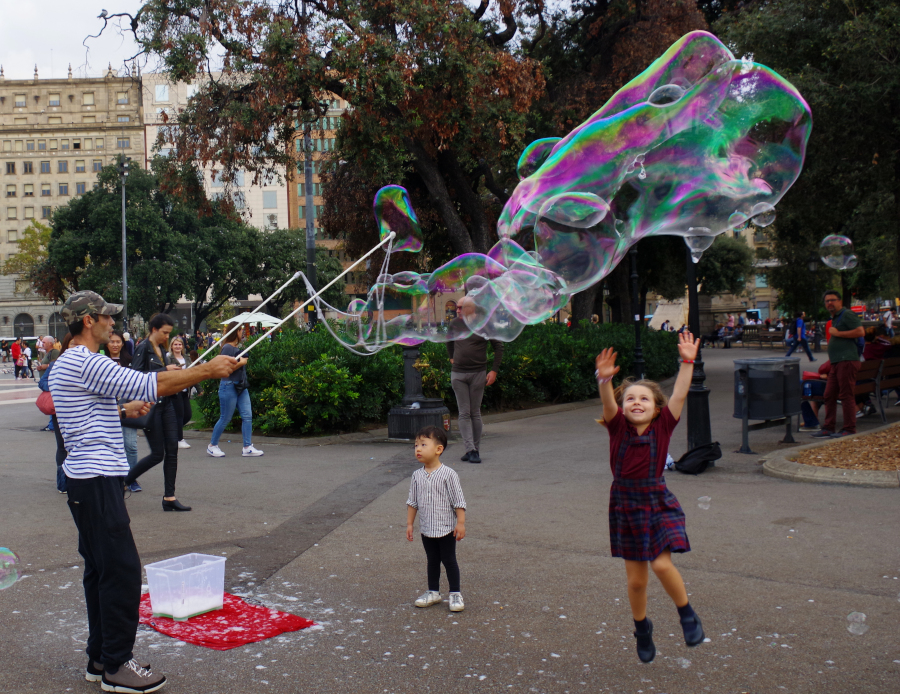 I managed to buy warm trousers (for working at the Roque in winter) and make up for redheads, neither of which is easy to find on La Palma. I had a drink and went back shattered.
After breakfast next day I had time to look at the ramblas near the port where I found several living statues.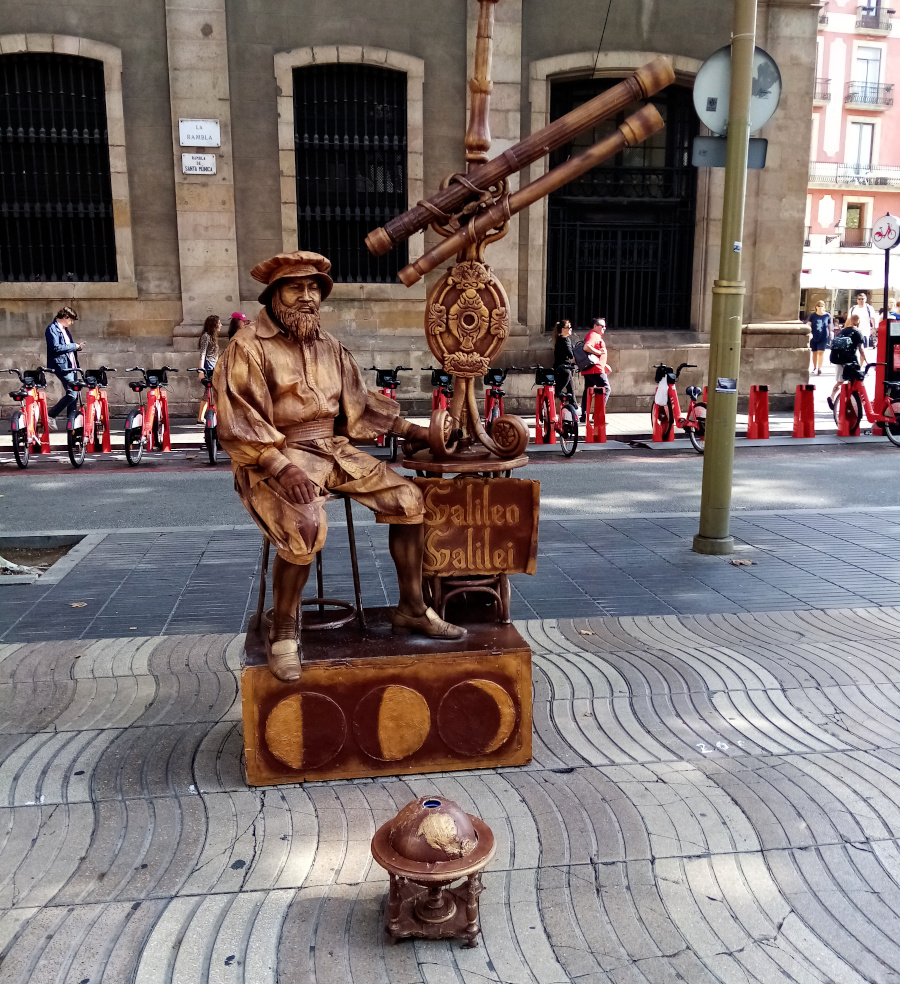 It would have been even more fun if my backpack hadn't been so heavy. In spite of my vow to stop shopping I bought several small presents from the art kiosks, by which time my backpack was about ready to explode.
Then I took the metro to the airport. Well that's what I meant to do.
What I actually did was to take the right metro line in the wrong direction. It took me 10 minutes to notice and another 10 minutes to get back to where I started. That meant that I arrived at the airport 20 minutes later than planned. In other words, way too tight.
Fortunately I'd checked in the night before. The queue for securty was so-so until the person in front of me at the scanners had a problem. Then they made me separate my stuff even more than I already had and put it through the scanners again. I mentioned that I was worried about my flight, but all that produced was a lecture. (I can see their point – they must get a lot of this. I don't think they saw my point at all.) I got through security and then I jogged down miles of moving walkways with my heavy back pack.
I'm not fit. I arrived at the gate so wet with sweat that I looked as though I'd showered with all my clothes on. I could feel my face glowing – I'm pretty sure you could have cooked sausages on it. But the important thing was that they hadn't quite finished boarding. I'd made it!
We landed 5 minutes early, and the whole family was pleased to see me. It's nice to be home.