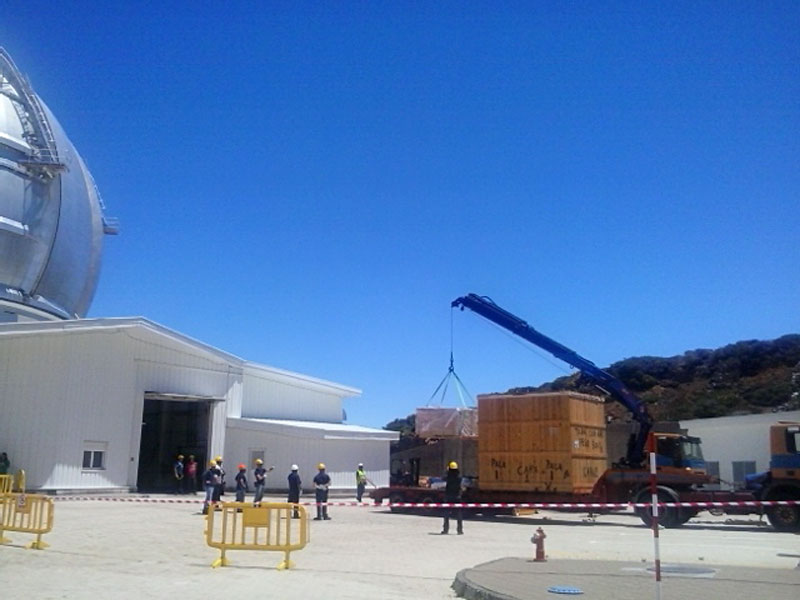 I had to get up early today to work at the observatory. The two visits went well, although I had to modify the second one because the telescope was taking delivery of a new scientific instrument called EMIR. EMIR is huge and it weighs 5 tonnes, and I was quite excited to see it. I was also pleased to see the project manager briefly, because I've known her for 25 years. So I hung around outside taking photos for quite a while at the end of the visit.By 2 pm I was starving, so I ate in the residencia. It was about 3 pm when I set off down the mountain. I hadn't gone far when I hit a small rock and got a flat tyre.
Luckily I could get off the road (not so many laybys on that road). In a Yaris, the spare tyre is in a compartment under the boot. So I took out the books and the emergency triangles and all the assorted clutter and found the car jack and Allen key. Jacking up the car was hard work, but I did it. The lug nuts were really tight, but I stood on the Allen key and that shifted them, and I got the bust tyre off. So I went back for the spare wheel, and bugger me, it was smaller! Not just a narrower read, but a good inch smaller in diameter. If I drove on it, it would unbalance the whole car.
I seriously considered the breakdown truck. But I had no mobile coverage. I calculated about 20 minutes to hitch to somewhere with coverage, at least 2 hours for the breakdown truck to arrive, 15 minutes to get the car on the truck and then an hour and a half to the workshop. Sod that. I decided to try driving very slowly on the small wheel to the next layby (about a kilometre). If it seemed OK, I'd drive slowly down to the workshop.
In the end, that's what I did. Of course there was a queue at the workshop and it was almost 6 pm by the time I got home.
I deserve a glass of wine.