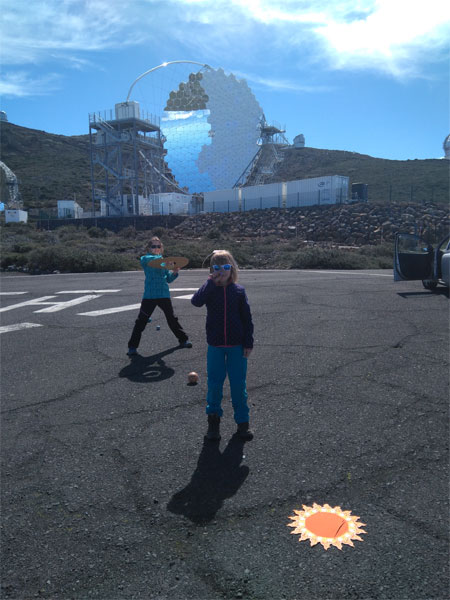 On Saturday I brought up my model solar system for my clients.
The sun is too small. to be in scale with the planets, it ought to be 4m in diameter, but that's rather inconvenient to fit in the car.
The first four planets (Mercury, Venus, Earth and Mars) are marbles and too small to see in the photograph, but the girl in the foreground is holding up the Earth.
Jupiter is on the ground between the girls, an the girl at the back is holding up Saturn (obviously). Uranus and Neptune are further back.
We all had fun.
The huge mirror behind the girls is the Large Size Telescope, and the engineers are covering up the mirror again, presumably for engineering work. It's important not to get direct sunlight on that massive mirror, because it would all be focused on the camera. People have been known to heat up lunch with just two smaller segments from the MAGIC telescope. (See http://dragontree.sheilacrosby.com/blog/wp-content/uploads/2012/11/5.15Magic_en.pdf) so direct sun on 200-odd segments from the LST would roast the camera in short order.