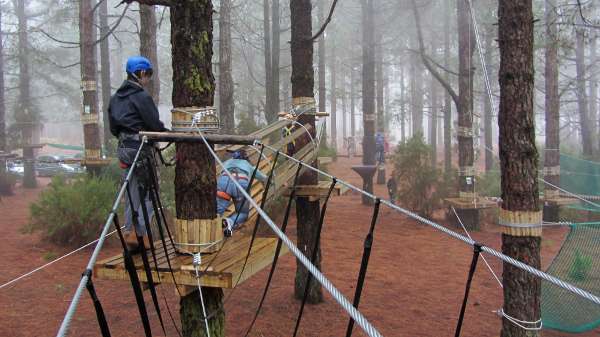 A new adventure playground has opened quite close to the barbecue site at El Pilar in Breña Alta, up in the pine forest. It's called ACROPARK, and they have three different circuits for different ages and daring, from the kids' circuit with 13 activities, where you're never more than a metre off the ground, to the senior one with 20 activities, where you get as much as 7 m up. The two easier circuits also provide reasonably photo opportunities from ground level, so you can immortalise the kids' adventure.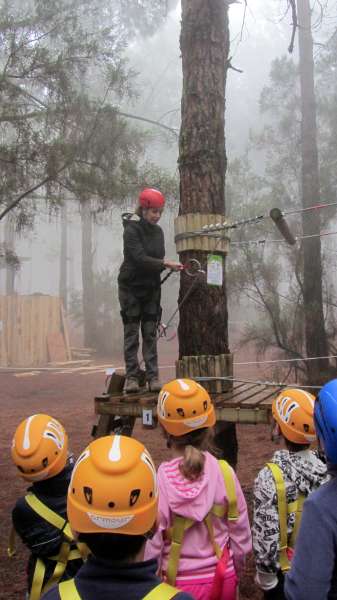 All customers are provided with lifelines and safety clips, so that you can't possibly fall.
The first thing they do, is to take you on the training circuit to show you how to use the safety equipment – always have at least one clip on the lifeline, and if they're on the same lifeline, have them clipped on in opposite directions, so you can't accidentally unclip them both at once.   They also mention the weight limit for the lifeline – 600kg (roughly 92 stone) which is reassuring. And then you do three easy activities to practise.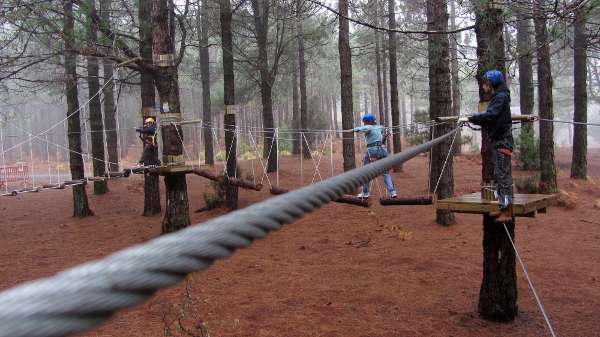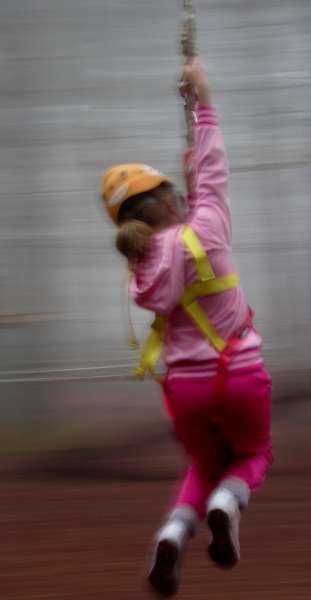 I need to get a little fitter before tackling the senior route, as I need more strength in my arms, but I'm really looking forward to it. The junior circuit was enough to get my adrenaline going, and I was glad to have the safety harness. (It also meant that I felt comfortable using both hands for the camera whilst standing on a small platform.)  I had a great time, as did my son, but once poor woman ahead of me had an attack of nerves and couldn't face the zip line at first. You go across rope bridges, balance on swaying logs, through a plank tunnel, and across zip lines. I certainly finished feeling pumped and pleased with myself.
Prices, (valid until Dec 31st 2011)
| | | | | |
| --- | --- | --- | --- | --- |
| | Non residents | | Residents | |
| | First circuit | 3 hours | First circuit | 3 hours |
| Kids (80cm or taller) | 6.50€ | 8.50€ | 4.50€ | 7€ |
| Junior (120cm or taller) | 14€ | 18€ | 9.50€ | 12€ |
| Senior (140cm or taller) | 18€ | 25€ | 14€ | 18€ |
They have reductions for groups of 20 or more
Contact Leticia González leticia@acropark.es, Telephone: 603 830 063
Their webpage is http://acropark.es/lapalma/ (in Spanish only at present)