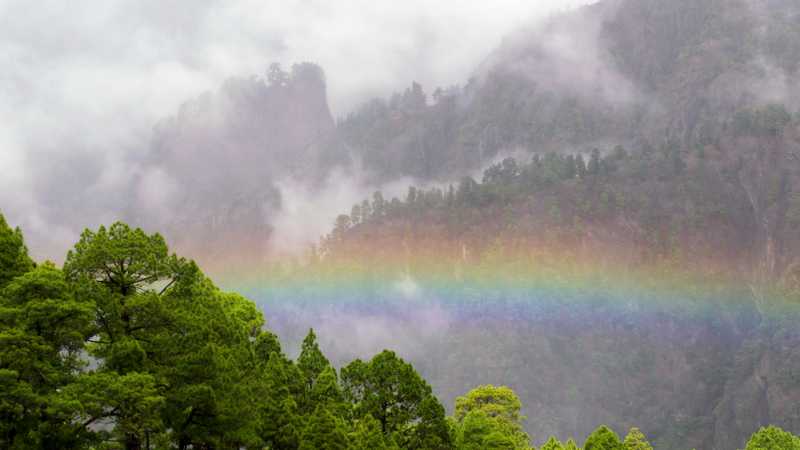 I got home from El Hierro on Sunday afternoon, and I had a tour guiding job on Monday morning. I was a little nervous, because it was a new route for me. What I should have worried about was that most of my passengers weren't native English speakers (I use very colloquial English on tour buses) and that, everywhere we went, my group would tend to get mixed up with groups from other buses.
I coped! We went to Las Nieves church, La Concepción headland, and the Distiladera craft shop. And then we headed though the tunnel to the other side of the island, to La Cumbrecita, where you get a magnificent view of the Caldera de Taburiente.
Well, you usually get a magnificent view. It's quite normal for the weather to change dramatically from one side of the island to the other, and usually the western side is drier and sunnier. Not Monday. We left the sunny east and came out of the tunnel to heavy cloud and drizzle. Me and the driver looked at each other, and said the Spanish equivalent of "Uh-oh!"
But there wasn't a lot we could do about it. La Cumbrecita is very popular and the car park is rather small, so you have to book – especially buses. We had our slot, and there was no opportunity to change the order and hope the weather improved.
So we went up to the car park – and we had to wait for a bus to leave before we could go up. By the time we got there, the rain had eased off to drizzle, and I said, "Well, I'm supposed to take you to the viewpoint, which is about 10 minutes walk away. I'm going anyway, because sometimes the weather changes very fast and the clouds part, and we can only hope."
To my surprise, most of them followed me. And the clouds did part – just as we got to the viewpoint. And there was a magnificent rainbow too.